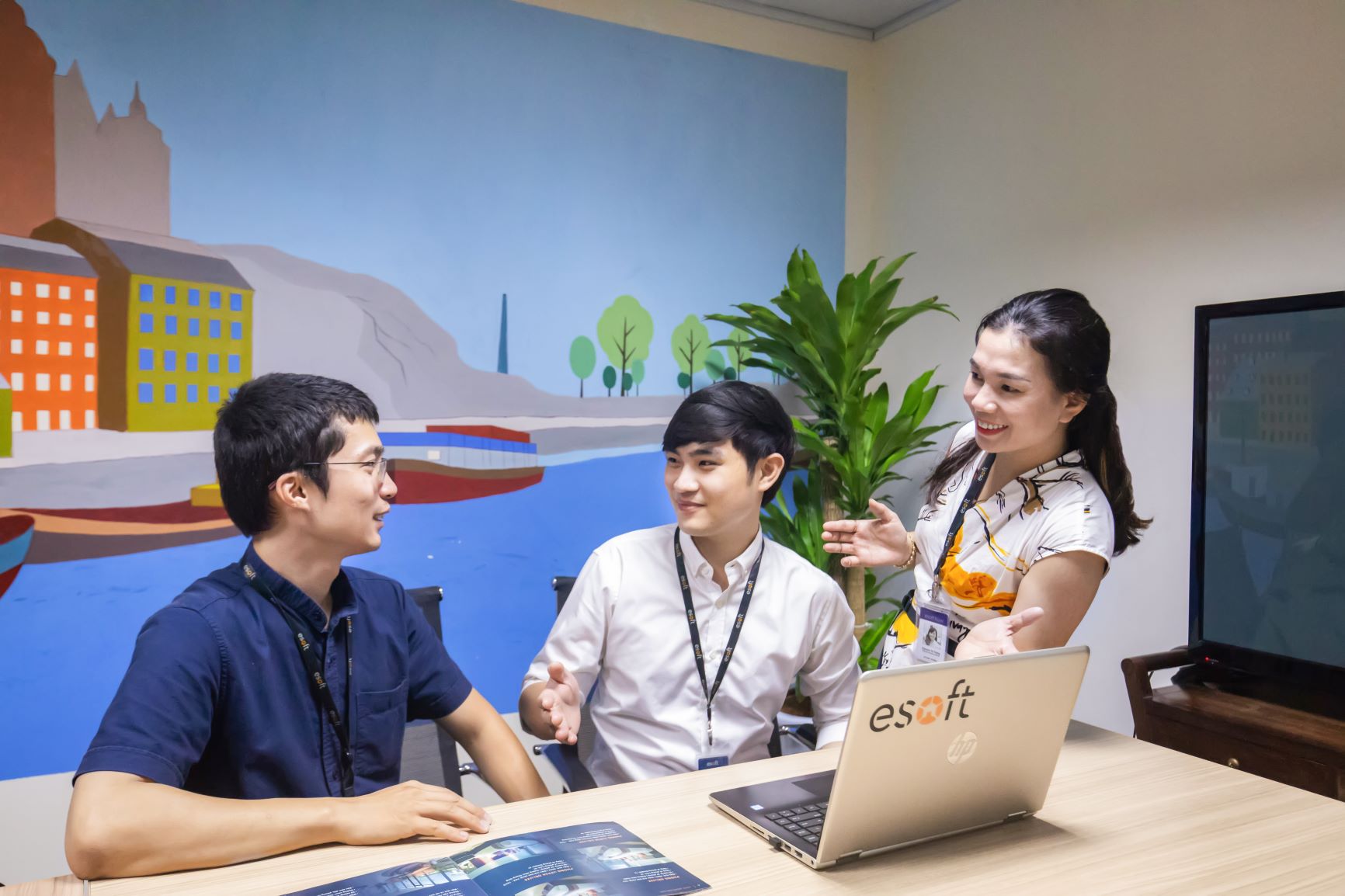 TOGETHER WE GROW
Esoft cares about our employees demonstrated through our Compensation & Benefit policy focused on enhancing life quality and commitment to a good work-life balance.
Attractive compensation & benefit
With a competitive compensation policy and other special benefits, Esoft provides compensation equity, commensurate with competence, and recognizes all contributions made by our employees.
Non-financial benefits:
Yearly performance bonuses available in all positions

Specific incentives, special bonus, and quality bonus available for Production Department staff

Project awards, outstanding result awards, outstanding employee of the month/ quarter/ year awards

Loyalty bonus, seniority bonus for employees with 1 year of commitment and above

Annual and periodic salary review according to employee ability development

Support allowance above the legal requirement such as night shift allowance, special overtime allowance

Allowances and financial support for emergency situations such as the Covid-19 pandemic; Benefits supporting working from home such as transportation of computers and equipment, electricity subsidization, internet installation

Many financial and spiritual individual and collective awards, held annually by Esoft, to recognize and honor both individual and collective contributions to the success of the company
Other benefits:
Flexible shifts for Production Department

Flexible hours for Non-production Department

Work-from-home for Non-production Department

Esoft canteen for daily meals and relaxation

Health and accident insurance for employees and relatives

Extra leave above the legal requirement, namely annual leave, personal leave, sick leave, paternity leave
Development opportunity
Esoft always focus on human development. Not only will you learn from your tasks, your colleagues or your supervisors, you will also be given the opportunity to participate in training courses held by Esoft to enhance your skills .
Additionally, each individual will be given a career development plan as well as a personal ability development plan. We are always open to internal recruitment as well as position and department rotation to help employees accumulate experience for the next transfer or promotion. At Esoft, you always have the opportunity to develop your career-oriented expertise and management skills.
International Environment:
Influenced by our Nordic roots, we emphasize transparent, caring and respect for everyone. As well as a dynamic and passionate staff from many parts of the World, Esoft will be the right place for the young and talented individuals who enjoy great challenges and an international work environment. With continuous development, Esoft Vietnam is a critical part of Esoft Group, contributing to its business development, and expansion of the international customer network. Esoft Vietnam offers a great opportunity to work, learn and develop for employees who wish to think dynamically, progressively and reach out to the world.